MPs will seat on alphabetical order henceforth, says the Speaker, changing the party lines expected traditional norms
Hargeisa- The newly elected Speaker of the House of Representatives Hon. Abdirizak Khalif Ahmed has announced that the first session of the new House will be held today, Sunday 8th August 2021 and noted that it was essential MPs to go about their duties without being polarized along party lines.
This move may as well go well with the members of the public given the Home-made Somaliland Traditional Democracy has always been geared towards rooting out tribalism hence create harmonious reconciliatory settings.
Speaking at handover ceremony, Mr. Abdirizak thanked the President of the Republic of Somaliland for his role in the conduct of the elections, the leadership & members of the previous House of Representatives for their contribution to the country and the donor countries financial support for the elections.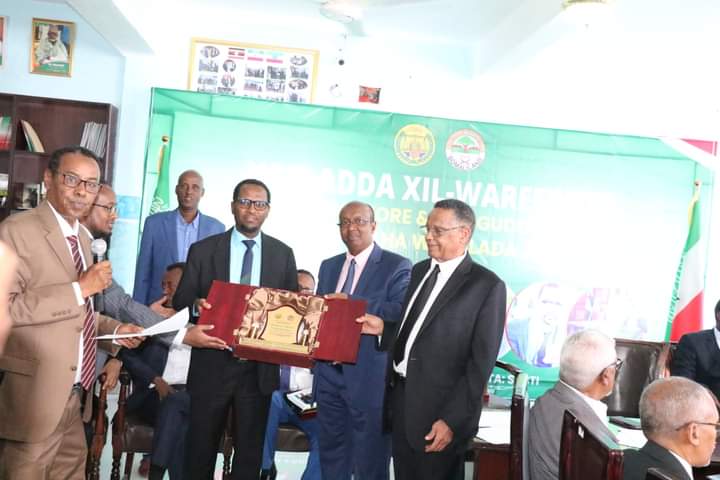 "He thanked the Chairman of the Senate Hon. Suleiman Aden, the Chairman of the Supreme Court Adan Haji Ali and the former Speaker Hon Bashe Farah for playing a key role in the election of the new house leadership and was awarded certificates of honor.
Hon. Abdirizak thanked the lawmakers who voted for him and others, saying it was their constitutional right to vote on their assessment and promised to lead all 82 members of the House of Representatives together, without favour.
The Speaker said that the first session of the new parliament will open on Sunday August 2021 and he extended an invitation to lunch for all lawmakers.
"From tomorrow, the members of the House of Representatives will not seat on party lines, but will sit on alphabetical order of their names, so that they interact more", adding that, "regionalism and clannism have dented the image of the legislature".
Speaker Abdirizak pledged that they would work closely with the president and the government.
It is worth noting that the newly elected parliamentary speaker had noted that he would reconcile polarized groups upon election to the post.
Meanwhile, the former Speaker of the House of Representatives, Mr. Bashe Mohamed Farah, who addressed those attending the handover ceremony, said that the biggest challenge they faced was the process of organizing the House of Representatives.
Hon. Bashe said they have left behind important laws such as that Capital City Act, the media law, as well as the delimitation of regions and districts laws, and suggested that they have to prioritize these pending ones.
Former Speaker Bashe wished for the new council to be better than previous one, as all pursue developmental progress of the nation and people. He also urged them to be vigilant, saying that the country has many enemies.
He lastly underpinned the fact that the government and the parliament were inter-dependent hence urged them to forge close working relationship.