The Minister of Foreign Affairs and International Cooperation Dr. Essa Kayd Mohamoud has officially inaugurated the Somaliland Ambassadors Diplomatic Training Symposium in Berbera.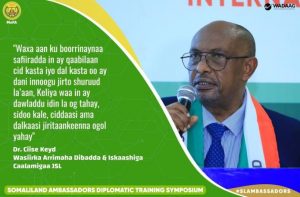 The workshop, which was attended by all Somaliland ambassadors accredited to foreign nations, will be reviewing, rejuvenating and formulating the Somaliland's new foreign policy plan.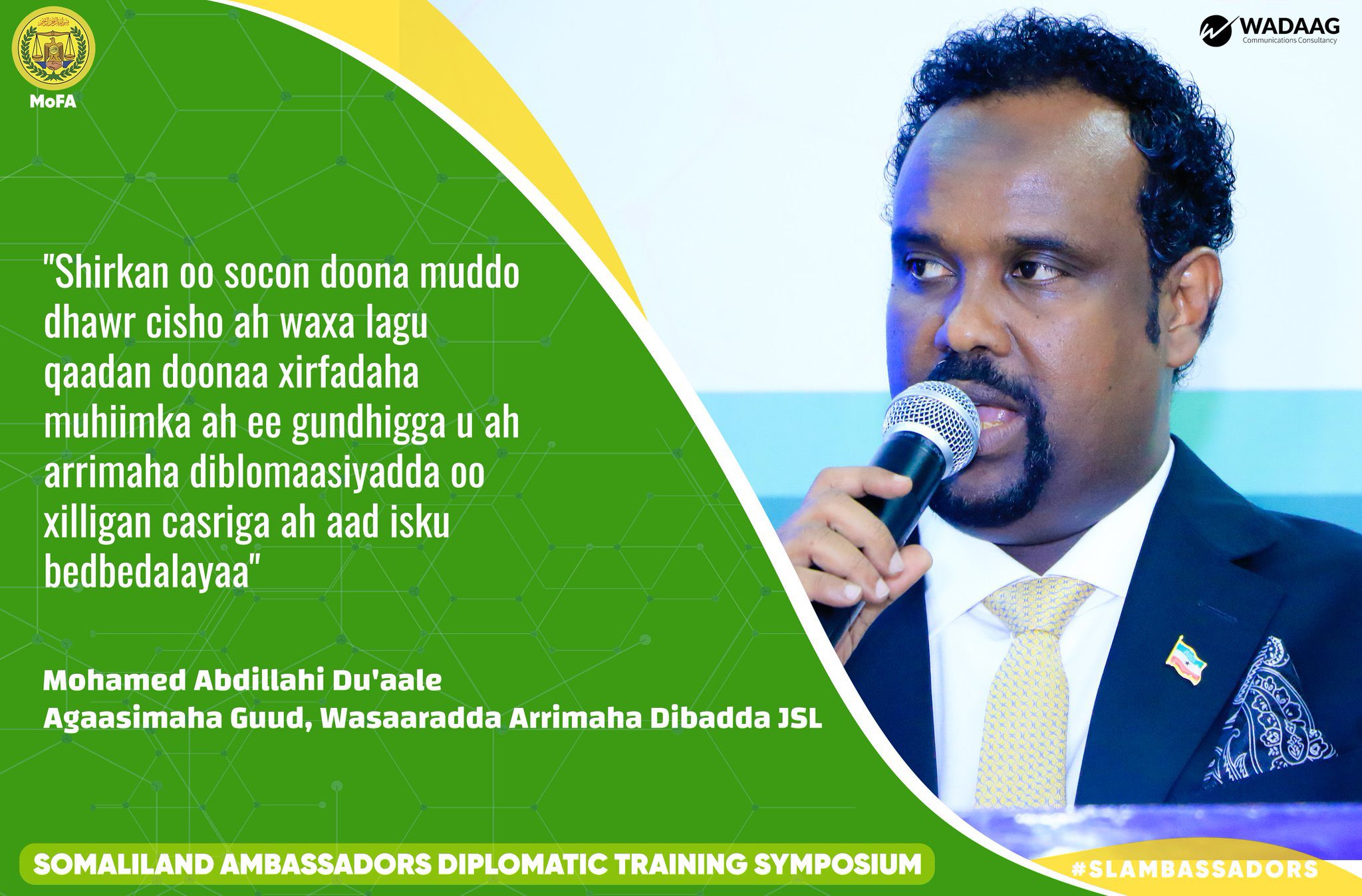 The Director-General of the Ministry of Foreign Affairs, Mohamed Abdilahi Ajab, addressing the gathering said that the purpose of the meeting is a consultation between the Ministry and its ambassadors, and the plan to achieve the primary goal of the Ministry of Foreign Affairs, which is how Republic of Somaliland gain full international recognition.
DG Mohamed added that it was an opportunity for ambassadors to benefit from different expertise of different diplomats and professionals specialists in global politics, such as Dr. Iqbal Jazhbai who trained diplomats from 120 countries invited to give lectures at this meeting.
Deputy Foreign Minister, Hon. Abdinasir Omar Jama, who spoke at the event, stated the aim of this training initiative is to pursue foreign policy as an opportunity for cooperation and as a basis upon which to build the foundation for a working partnership on global matters.
He noted that such consultative meetings would be regular in the future.
The Minister of Foreign Affairs, Dr. Essa Keyd, called on the ambassadors present to welcome anyone and every country unconditionally if deemed to be in our interests, upon notification to the government, especially for those of countries sympathetic to our cause or acknowledging the existence of Somaliland.
Today I launched our week long Diplomatic Training Symposium in Berbera. This is a first for theMoFAIC, and we aim to continue to develop our Ambassadors and Diplomatic Reps so that Somaliland's message is consistent & the same globally. #Berbera

— Dr Essa Kayd (@DrEssaKayd) February 19, 2022
Dr. Isse said that the meeting, which will feature different lectures by international political experts, is to convey a unified message about the recognition of Somaliland to the countries represented by all our ambassadors, wherever they are.
The meeting was likewise addressed by the Mayor of Berbera, the RG of Sahil region, and the chairman of the foreign affairs committee of the Somaliland parliament; all commending the symposium of Somaliland ambassadors facilitated by the ministry, hence suggested that it be bolstered.
Somaliland Ambassadors Diplomatic Training Symposium, orchestrated by the Ministry of Foreign Affairs and International Cooperation, officially started at Mansoor Berbera, pic.twitter.com/Eel9Qy7et1

— MFA Somaliland (@somalilandmfa) February 19, 2022
Well done H. E @DrEssaKayd @kadinyare @MDuale1 #Somaliland pic.twitter.com/w4S6eGNpy9

— Barkhad M. Kaariye (@BarkhadKaariye) February 19, 2022
I'm delighted to participate Somaliland Ambassadors conference which was officially opened by the Minister of Foreign Affairs, @DrEssaKayd and there were a number of international experts invited,@iqbalau_, Prof. Nabile Ayad among many other diplomats and scholars. pic.twitter.com/GfDLhGokhS

— Mohamed Barawani, PhD (@MohamedBarawani) February 19, 2022
Ambassador Prof. Iqbal Jhazbhay- South Africa's former Ambassador to the state of Eritrea who is also a good friend of Somaliland has expressed that he sometimes gets emotional when remembering how Late President Egal stand with his people. @somalilandmfa pic.twitter.com/eIFIhgTtUT

— Wadaag Communications (@wadaagCC) February 19, 2022
Diplomacy and international governance expert and member of the London Diplomatic Association, H.E Prof. Nabil Ayad who is leading the training urged the diplomacies participating in the training to project the image of Somaliland as a sovereign country to the rest of the world. pic.twitter.com/gWYpgvXfgs

— Wadaag Communications (@wadaagCC) February 19, 2022
The week-long workshop is expected to conclude with decisions to accelerate Somaliland's foreign policy and virulent lobbying.