By M.A. Egge
The President of the Republic of Somaliland H.E. Musa Bihi Abdi, graced the auspicious occasion of the celebrations marking the 30th anniversary of the founding of the Somaliland national Police Force which was held on Saturday at compounds of the premises of the police headquarters.
The ceremony to commemorate the inception of the force three decades ago on the 3rd of November 1993, also saw the attendance of was attended by the president, the first deputy Speaker of the House of Representatives, the president of the Supreme Court, ambassadors from Somaliland's friendly countries, traditional leaders, politicians, leaders and scores of eminent personalities and invited guests.
The Head of State congratulated the police force on its founding and described the department as an indispensable pillar of nationhood.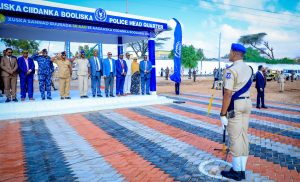 He emphasized that the people and the nation are aware of the selfless efforts of the police force and how they protect and safeguard security in public interest.
Said he, "Your nation knows you very well, and we are profoundly grateful to you with everyone acknowledging and appreciating your selfless endeavors and efforts which you exert in your services to".
He added that the state will always be at hand to support the police department in a fervent manner.
The President expressed his sadness on the impact of the ongoing Gaza war that has brought untold human suffering to the populaces of the Palestine nation.
He lamented that the western countries have depicted negative attitude towards the humanitarian crisis amidst the genocide taking place and declared support for the Palestinians in the wake of the catastrophe.
Concerts depicting the chores of the department and the imperativeness of safeguarding peaceful stability was presented at the event.
The chief operations commander of the police force Brigadier General Ibrahim Abdi Haji Mohamud presented a summary of all the undertakings by the police in the past year with statistics of crimes committed, accidents that happened and comprehensive normal report in various associated sections.
The Chief Police Commander Major General Mohamed Adan Saqadi congratulated and praised all the police forces of the Republic of Somaliland, and lauded them for performing their duties diligently while always being alert and on the stand-by for any eventualities related to their tasks.
The Minister of the Interior, Hon. Mohamed Kahin Ahmed, who made a brief speech on the occasion, praised the police force for maintaining security in the country and on the daily sacrifices they make for their nation.